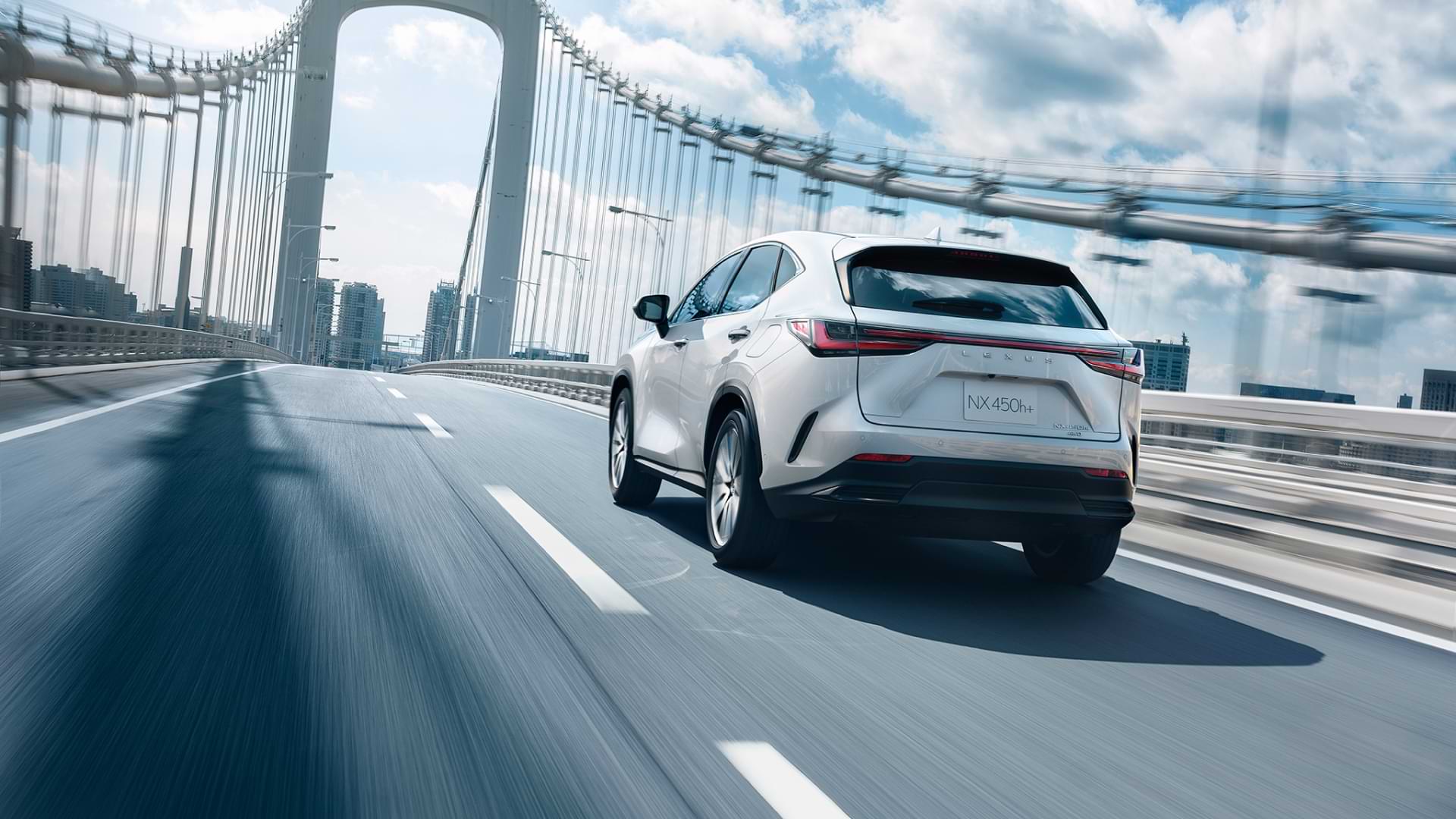 discover the
Lexus nx
plug-in hybrid
Global vehicle demand, supply chain disruptions and parts shortages caused by the COVID-19 pandemic are impacting the production and delivery time of new Lexus vehicles. Read the frequently asked questions to
learn more
or contact your preferred
Lexus Dealer.
the FIRST LEXUS PLUG-IN HYBRID has arrived
For over 15 years, Lexus has pioneered electrification technology. The result? A lower emission vehicle that marries power, efficiency and luxury with every drive. Introducing the Lexus NX 450h+ medium SUV: the first Lexus model to harness the Plug-in Hybrid Electric Vehicle (PHEV) powertrain.
Lexus NX 450h+ is the newest expression of a commitment to refined innovation; this is Lexus Electrified.
Confidently reimagined, intuitively connected.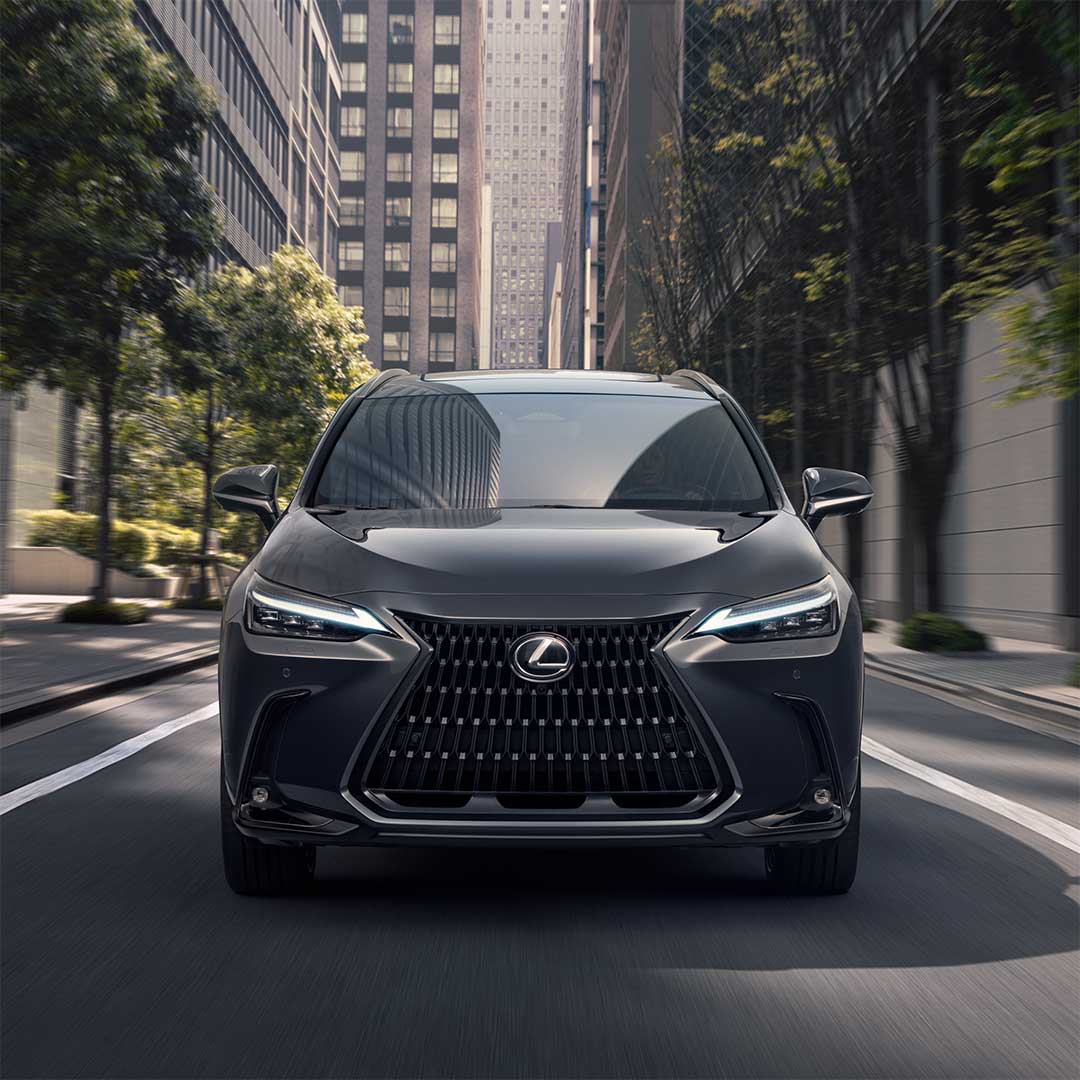 High performance, less tailpipe emissions
Lexus NX 450h+ delivers a class-leading all-electric driving range, low fuel consumption and exhilarating performance. The Plug-In Hybrid Electric (PHEV) powertrain combines Lexus Hybrid performance with stunning Electric Vehicle (EV) capability.
It delivers a best-in-class EV range of up to 87km11, fuel efficiency with consumption from 1.3 litres per 100 kilometres12 and exhilarating performance with 227kW of combined power and zero to 100km/h in 6.3 seconds.
Power is supplied by Lexus Hybrid technology using a four-cylinder 2.5-litre petrol engine specially engineered for use in hybrid systems and a rechargeable 18.1kWh lithium-ion battery.
convenient charging
Lexus PHEV have Alternating Current (AC) Type 2 charging capability so you simply plug in at a power source – either at home or at the growing network of charging stations. To prevent tampering, the charging port lid lock works in coordination with door locking/unlocking.
The NX 450h+ has a highly efficient onboard charging system with a 6.6kW maximum output.
You can enjoy professional installation of a home charger13 when you purchase a Lexus NX 450h+, so you can wake up to a full charge.14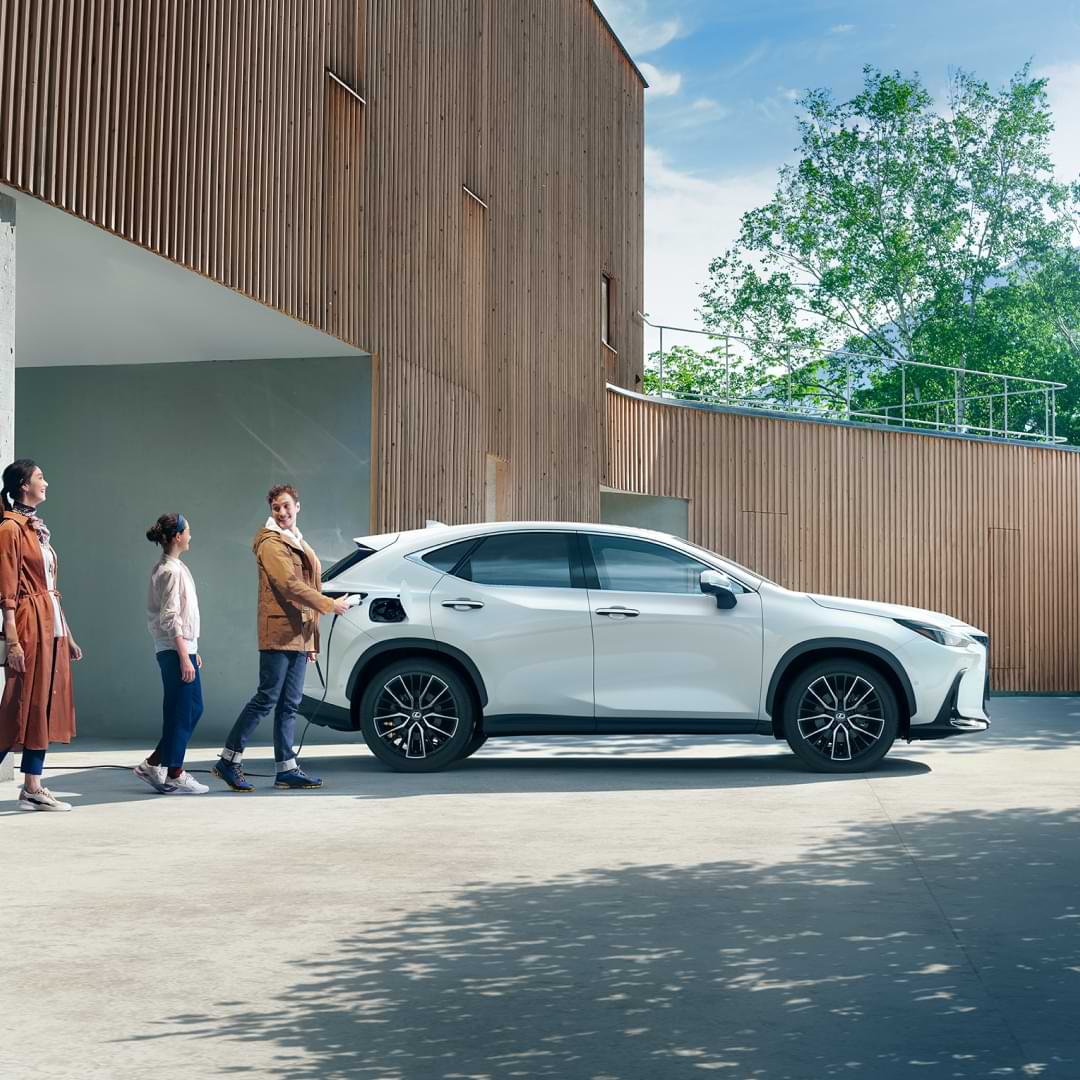 The benefits of plug-in hybrid
go further with less petrol
With a superior 87km of all-electric driving range11, the NX 450h+ uses the electric motor for a larger portion of the journey than a regular Hybrid does, reducing reliance on petrol.
Back-up when you need it
When the electric battery is running low, the vehicle switches to its Hybrid drive mode. The petrol engine is then assisted by the electric motors to power the vehicle and maintain the battery's charge level.
Reduced Emissions
Combining 15 years of pioneering Hybrid research and a default electric (EV) driving mode, has resulted in Plug-In Hybrids which can emit zero tailpipe CO₂ emissions when driving at low speeds.16
uncompromising power and safety
Plug-In Hybrids deliver exceptional responsiveness. Equipped with Lexus Safety System+4, our electrified vehicles are designed to give you greater control and peace of mind.
Disclaimers
01.
Australian specifications & features may differ. See your Lexus dealer for details.
04.
Driver assist feature. Only operates under certain conditions. Check your Owner's Manual for explanation of limitations. Please drive safely.
11.
Achieved in test conditions for comparison purposes only. Distance is approximate and may vary depending on driving conditions/style, vehicle condition, load and options/accessories fitted. Based on New European Driving Cycle (NEDC).
12.
Achieved in test conditions for comparison purposes only. Actual fuel consumption varies depending on driving conditions/style, vehicle condition, load and options/accessories fitted. Source: ADR 81/02 combined (L/100km) for auto models..
13.
Complimentary ABB Single Phase 7kW AC wall charger supplied and installed by JET Charge Pty Ltd (JET Charge). Eligibility determined at Lexus and JET Charge's discretion. Vehicle owner must obtain appropriate site permissions and access prior to installation. Electricity consumption charges are owner's responsibility. Refer to operating instructions for usage guidance. Upgrades and equipment add-ons at additional cost. Rainchecks not available. Cannot be redeemed for monetary value. See jetcharge.com.au for T&Cs and lexus.com.au/encore for details.
14.
Actual charging duration varies depending on charging conditions and method used. Frequent use of DC Fast Charging can impact battery performance & durability. Lexus recommends minimising DC Fast Charging usage. Refer to Owner's manual and lexus.com.au/charging for guidance.
16.
Emissions vary depending on fuel type, drive train driving conditions/style, vehicle condition & options/accessories fitted.
18.
IMPORTANT NOTICE - Lexus Australia uses its best endeavours to ensure material is accurate at the time of publishing. All information must be confirmed with your Lexus dealer at the time of ordering, as specifications, applicability and availability may change over time. Colours depicted are a guide only and may vary from actual colours due to the printing/display process. Lexus Australia reserves the right to change and/or discontinue, without notice, models, prices, colours, materials, equipment, specifications. To the extent permitted by law, Lexus Australia will not be liable for any damage or loss incurred from relying on the information and images contained in this material.

Published by Lexus Australia, a division of Toyota Motor Corporation Australia Limited ABN 64 009 686 097, 155 Bertie St, Port Melbourne Vic 3207.